Biography
Sergio Milani learned in his father's shop the first notions of woodworking, exercising and acquiring the various techniques of processing the material. He graduated in the arts and became a teacher of artistic subjects and the same time raneamente collaborating for over thirty years with the leading Italian industries of the toy the plastic. His attention over the last fifteen years has turned to what has always been by his passion, the wood, thus creating some art painted wooden toys.
Toys recreational and educational art
My works are the result of the two most important activities of my life. My idea has always been to raise an artistic level of simple wooden toys, made of horses in various shapes, decorated with watercolor technique and by interpreting figurative well-defined educational themes and custom. I think I affrontatre a very interesting topic and original as in various forms it is presented.
My works related to adult are attractive to the uniqueness of the issues and raffinatez za the expressive technique miniaturized which make them true collector's items.
But my desire is also to bring art to the child with works in its dimensions, to invite the adult to train him in the art form of the game, a picture turned into giocatter think it's an interesting shape to make it clear to the child from an early age that it is very important to be surrounded by objects that must be respected for their educational function, cultural and aesthetic.
My works then have the desire to be projected over time, not a toy intended to dynamically-hand experiences, but also educational and cultural under innumerable aspects like horse, nature, insects, castle, fairy tales, etc., all arguments presented in a simple and realistic way to be easily assimilated.
At each line it is given a name, designed a precisely contoured Pony establishing its playful nature, rocking or wheels made of precious wood, a decorative theme is chosen as the main theme, but allows it to generate interpretations are always different, thus creating unique pieces, often with two different images one on each side.
Each work therefore differs in an imaginative interpretation of ornate and visions, with simple games reviving the memory of a magical world that is unlikely now you can relive.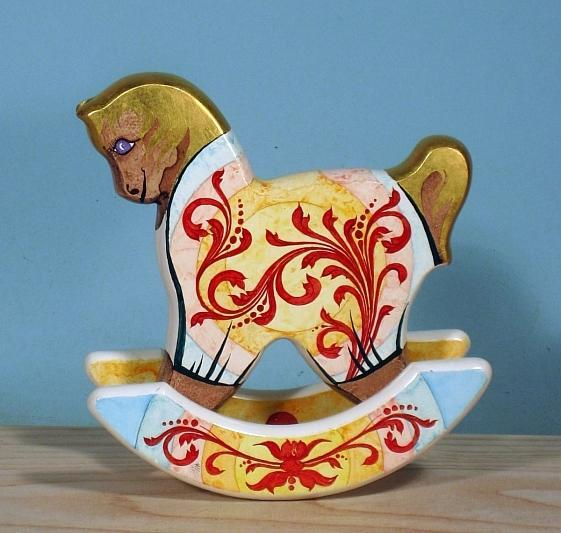 Pin It
The Baby Ornate Line
Horse is mounted permanently on rocking fine wood, the decoration in the two sides develops studies and fantasies adorned with the same graphic composition but different color rendition. Dimensions 14x14x6 cm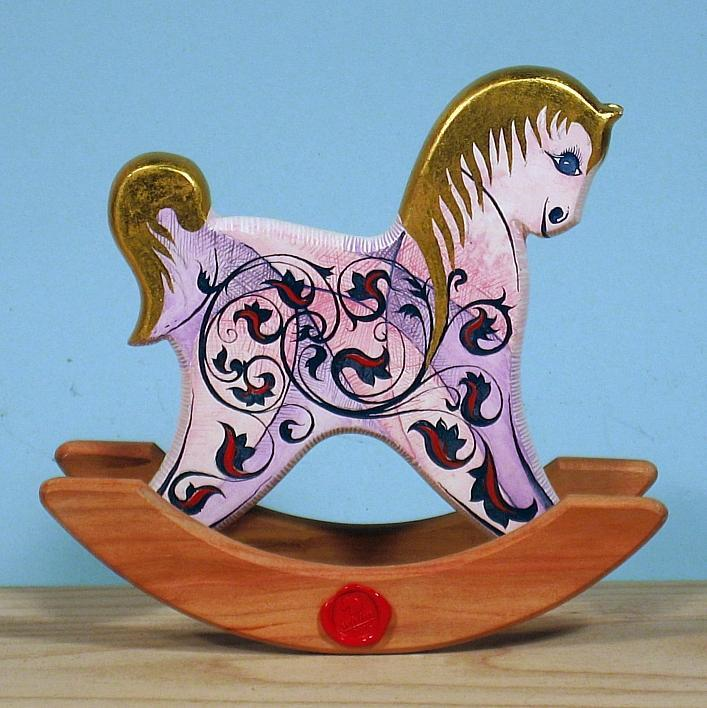 Pin It
The Baby Ornate
The Baby Ornate line consists of rocking horses whose decorative theme is "The ornate art history", decorative elements taken from wrought iron, stucco, frescoes, furniture etc.