Kassel,
in the 1963 Roland Rafael Repczuk was born to be an artist.
At the age of three he and his family moved to a small town near Cologne,where he grew up.
During his childhood Roland Rafael Repczuk already discovered his passion for painting.
At the age of nineteen he had several contacts to students of Joseph Beuys.
In consequences of these impressions a change took place and years of travel followed.
During this time he collected a lot of impressions and evolved his demand of a permanent development.
He had several expositions near Cologne.
1984-1985 he spent his time in France.
At the end of 1985 he refused the contemporary art and turned towards the
old trade.
In using the old masters a long period of creation started.
Roland Rafael Repczuk creates realistic and surealistic oilpaintings.
At the end of 1990 he moved again into the north of Germany.
Now he lives with his family near Hamburg.
During the last twenty years he made oilpaintings,drawings,mosaics,frescos
and landscape formings.Roland Rafael Repczuk lives with his wife and his both children in Hanerau-Hademarschen, a historically important village in Schleswig – Holstein / North Germany. Once Hademarschen was the residence of the famous german poet Theodor Storm. R.R.Repczuk says, the natural wildness of the scenery, inspires him and he scoops from her, untiringly new ideas.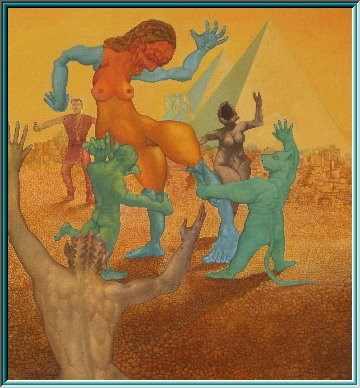 Pin It
Wild fever
Wild fever Freethinker or atheist ? The dance around the golden calf. The cult site as a cradle of opposition Oil painting of the surrealism / oil painting of the fantastic realism Oil painting No. 5 Roland Rafael Repczuk In 1997 Oil painting