Born and raised in the Midwest, Stratford was surrounded by a family of artists, sculptors, and musicians. This strong influence for "all things creative" instilled in her an unmistakable love of expression in all forms.
A desire to connect with others through self-expression led to study and careers in music, writing and design. Formal art education at Ohio State University was followed by mentoring with Churchill Mills' textile designer, Alma Fuerst. Early voice training by renowned tenor and teacher, Harold Beckett led to a brief but satisfying performance career. Ever intrigued by the classical masters, Stratford went on to symphony orchestra management and studied in New York. Although fulfilling, her love of visual arts, design and the need for personal expression won out. Always drawn to the creative process, she studied graphics at Edison College and designed corporate logos, brochures, and marketing materials. Travelling extensively while living in Boca Raton, Florida, Stratford studied sculpting in Brussels, Belgium with sculptor Lisa Pappas. A five year sabatical in Aspen, Colorado brought a renewed desire for self-expression. Moving to Arizona in 1998, she studied silversmithing with Jay Burnham-Kidwell and experienced a successful foray into jewelry design. Finding that too limiting, she returned once again to her first love...painting.
Stratford's art is a culmination of sophistication and clarity. Working in acrylic and oils, her abstractions are most intriguing. Color and balance is evidence of her previous design work. "The desire to express our emotion through color is primal and the formality of my arrangements continue to convey the ever-changing yet conservative views in my mind. Sometimes playful and humorous but always a bit conservative, my art seems to resonate with a broad range of people. All people are complex; perhaps my art speaks to the 'searcher' in each of us."
Her paintings and sculpture have been greeted with enthusiasm and will most certainly garner rave reviews as have all of her creative endeavors.
"My paintings are a personal exploration of shape, color, texture and balance.
When I started painting again, I chose realistic subjects and portraits. Soon I started to experience an appreciation for context and structural play when paints were laid down in a process of measured abandon. My work continues to be non-representational, incorporating color fields with unexpected textures and the occasional text. Curious but calming, always striving for a composition that is exciting yet balanced; I think the process reflects my general outlook on life at this time.
While I continue to explore other mediums, I hope all my works inspire both curiosity and a sense of balance for the viewer."w.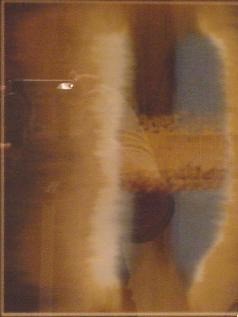 Pin It
Blue Abstract #1
Acrylic on canvas board, 8" x 10", 2004